ABOUT
The Foundation
The Selkirk & District Community Foundation supports and serves on Treaty One Land and the home of Anishinaabeg, Cree, OjiCree, Dakota, Dene and Metis Peoples. We acknowledge that our Indigenous Peoples are the stewards and guardians of this land. As a community and workplace that embraces the values of diversity and inclusion, we honour and celebrate our Indigenous nations, their traditional knowledge and their contributions to all our communities. We acknowledge the harms of our shared history on Indigenous people, and that we pursue a path forward that is inclusive and supportive of reconciliation within all our communities.

Who We Are & What We Do
The Selkirk & District Community Foundation (SDCF) brings people together from all walks of life to make our communities vital places to live, work and play, for all:
City of Selkirk
Rural Municipality of St. Andrews
Rural Municipality of St. Clements
The Foundation helps everything from the region's library and hospital; daycares to senior centres and cultural dance troupes to women's shelters and so much more.
This is made possible by community-minded donors who believe in supporting local not-for-profit groups that strengthen our communities.
SDCF is a charitable organization registered with Revenue Canada and incorporated in 1995.
Mission
The Selkirk & District Community Foundation:

How Your Donations Grow
Our Foundation is built on endowments. Our motto is Here for Good and endowments ensure your donations will be. An endowment lasts forever because the original donation is never spent – only the interest is dispersed. Consider this: A one-time $10,000 gift to a charity will likely be spent immediately. But a $10,000 donation to an endowment will continue to grow and give back over and over again, far exceeding its original value. Here's an example of how an average 6% return can make your endowment donation Here for Good: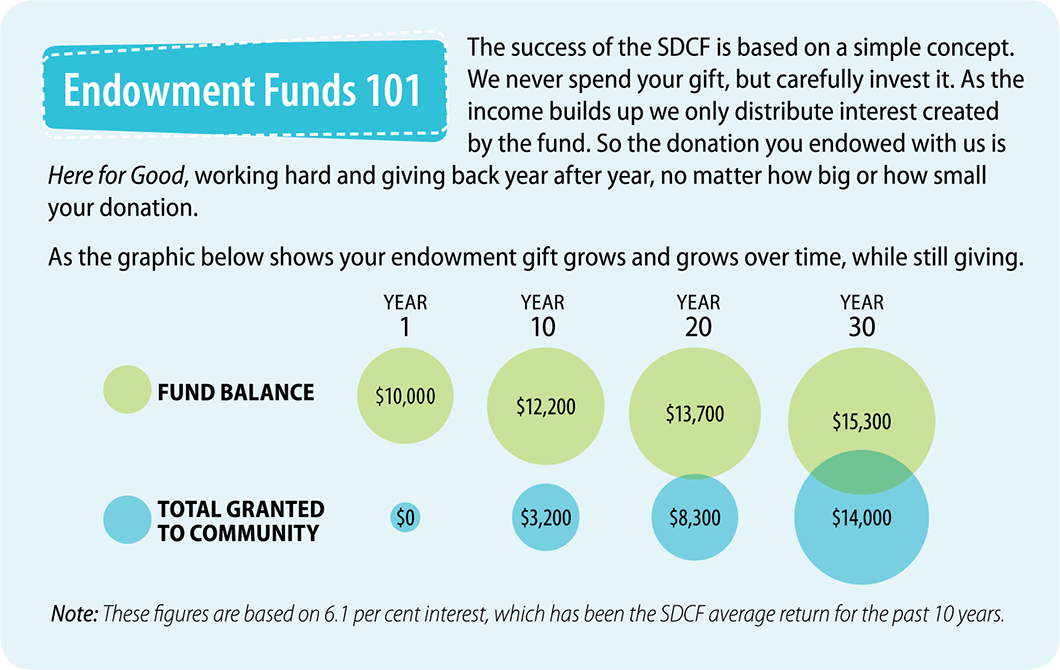 While your Selkirk & District Community Foundation is busy working to be Here for Good, there are over 200+ foundations like us across Canada doing good work as well. The Foundation is proud to be part of a national effort and a member of the national Community Foundations of Canada. We also work closely with our Endow Manitoba friends and neighbours – the 56 Community Foundations here in Manitoba.

Strategic Plan
The Foundation of today, as in the past, takes great pride in being value driven. Our core values are integrity, collaboration, empowerment, caring, passion and being inclusive in all we do. Learn more in our 2022 Growth, Development & Maturity Strategic Plan.

History
The origins of SDCF are predictably humble and reflect the determination, passion and commitment of the groups and volunteers the Foundation supports today.
Transplanted lawyer Lewis Wasel – who hailed from the neighbouring province of Saskatchewan – had such a belief in his adopted home of Selkirk that he began floating the idea that the town, along with bordering municipalities of St. Clements and St. Andrews, could support something new, something called a 'community foundation'.
Most people didn't know what a community foundation was at the time, and Wasel used the Winnipeg Foundation – the first foundation ever in Canada – as an example of the good work they do.
Wasel, who practised law in Selkirk for 31 years, liked the community foundation model where all money donated would be held in trust and the principle never spent. The fund would create a perpetual legacy for years to come with only the interest from the funds being granted out to not-for-profit groups, doing good work, in the region.
In 1993 the Thomas Sill Foundation said it would provide any new Manitoba community foundation with $100,000 if it could raise $200,000.
It was an offer Wasel couldn't pass up, and he began floating the idea with others who shared his enthusiasm for community and belief that the people of the three communities would see the value a community foundation could create.
He found allies in Dr. M. Ike Hussain, who worked at the Selkirk and District General Hospital, the Maple Drive neighbourhood "gang" and local grocery store owners Jim and Betty Anne Gaynor.
Hear more in Our History video.
See a tribute to Dr. Hussain in our 2014 Annual Report.
Founding Chairman
Lewis Wasel
Founding Board of Directors
Charles Barnard, William Findlater, Dr. M. I. Hussain, Fred Koch, Elmer Kuber, Dawn MacFarlane, Jean Oliver and Edward Sitarz
Past Chairpersons
Aaron Martyniw, Gord Henrikson, Kelly Lewis, Michael Buhr, Frank Wellink, Gail Bodman, William Findlater
Past Board Directors
Terry Neplyk (2016-2022)
Deann Lane (2015-2021)
Doug Chorney (2014-2020)
Michele Polinuk (2014-2020)
Ryan Werbicki (2019-2020)
Heather Hogg (2013-2019)
Stan Halbesma (2012-2018)
Rosalyn Ferguson (2015-2018),
Shirley Muir (2010-2016)
Bill Bodman (2009-2015)
Mark Webster (2009-2015)
Ruth Konzelman (2008-2014)
Lesli Malegus (2009-2013)
Bev Stewart (2007-2013)
Joe Smolinski (2006-2011)
Rob Cox (2005-2010)
Russ Paradoski (2007-2009)
Bud Oliver (2003-2009)
Otto Gebhardt (2003-2008)
Leslie Hanson (2004-2008)
Russ Skalesky (2001-2007)
Ray Anderson (2003-2007)
Bruce Harris (2001-2006)
George Plews (2004-2005)
Bob Jefferson (2000 to 2005)
Heather Unik (2000 to 2004)
Caroline Vandean (2000-2001)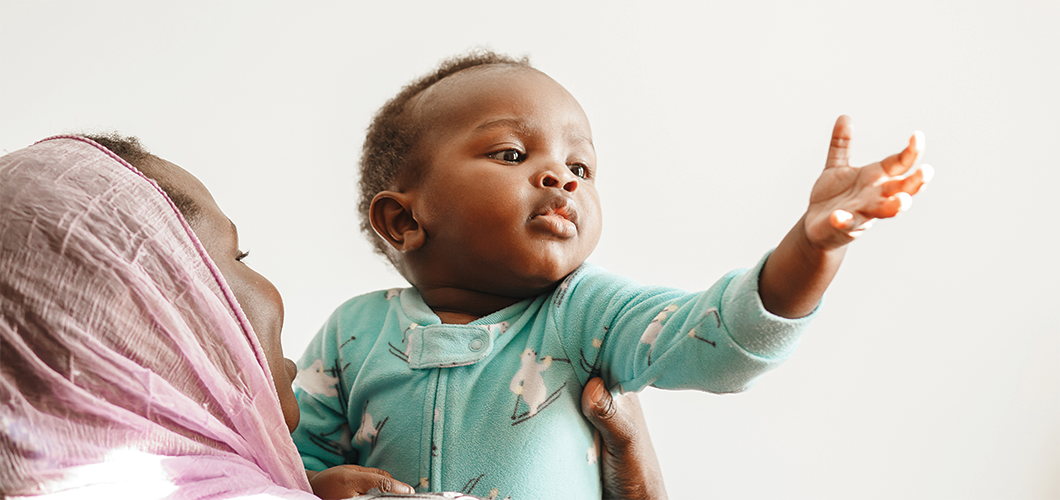 Community Check-Up
Selkirk | St. Andrews | St. Clements | Brokenhead Ojibway Nation
We collected data and stories to identify strengths and discover what issues need attention in our community. The results may delight, surprise, or even alarm you.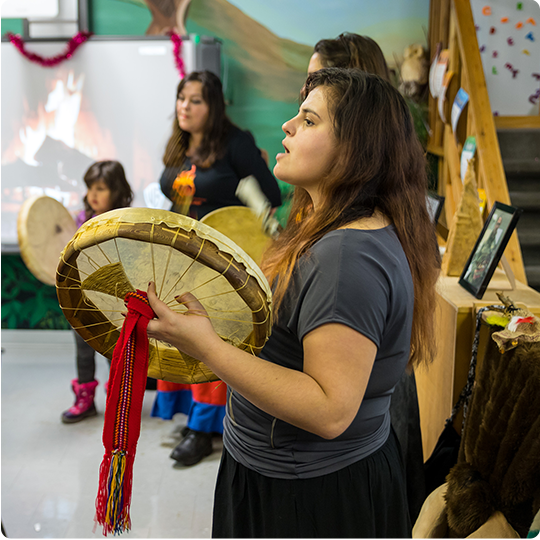 Your Gift Lasts Forever
We carefully invest your donation and use only the interest it earns. So you gift is here for good, working hard and giving back year after year.